Mitsubishi Chemical Corporation
Mitsubishi Chemical Corporation (MCC; Head office: Chiyoda-ku, Tokyo; President: Masayuki Waga) hereby announces that MCC's bio-based engineering plastic "DURABIO™" has been adopted as the main body part (rear shaft) of Pilot Corporation's (Pilot; Head office: Chuo-ku, Tokyo; President: Shu Itoh) ballpoint pen "Acroball T Series Biomass Plastic" and "FRIXION Ball Knock 05 Biomass Plastic." These products have been offered for sale by Pilot since February 3, 2022*.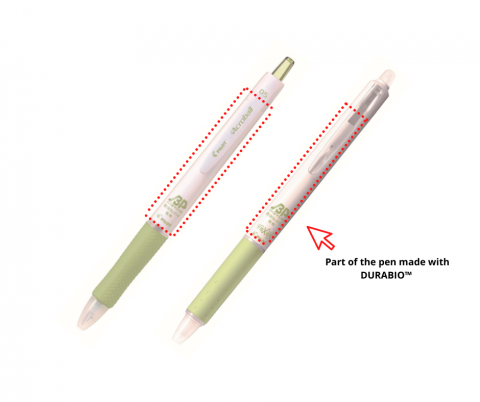 DURABIO™ is a bio-based engineering plastic made from the renewable plant-derived raw material "isosorbide," a highly durable material. In addition, the plastic can be applied to various design parts because it has excellent color development during coloring and moldability during processing. These excellent characteristics have been highly evaluated, which has led to its adoption. This is the first case for using DURABIO™ in a stationery application.
The use of biomass plastic made from plant-derived materials such as DURABIO™ can reduce petroleum consumption, which is an exhaustible resource. It can also contribute to the reduction of greenhouse gases that are said to be the cause of global warming because the plant that makes up the raw material absorbs carbon dioxide during the growth process. MCC will continue to focus on the development of DURABIO™ toward the realization of carbon neutrality.
*These products are currently only available for novelty items.
(Reference)
Pilot's special website for these products: https://www.pilot.co.jp/novelty_products/biomass_pen/
Contact
Communication Division
Mitsubishi Chemical Corporation
TEL: +81 3 6748 7161