-Verification testing for the commercialization of molecular recycling begins-
The Mitsubishi Chemical Group (the MCG Group) hereby announces that it will start verification testing of a scheme for collecting acrylic resins from end-of-life vehicles, with the goal of commercializing molecular recycling operations for acrylic resin in collaboration with Tokio Marine & Nichido Fire Insurance Co., Ltd. (TMNF; Head office: Chiyoda-ku, Tokyo; President: Shinichi Hirose) and ABT Corporation*1 (ABT; Head office: Chiyoda-ku, Tokyo; President: Tadashi Fujimoto).
The MCG Group, one of the world's leading acrylic resin manufacturers, is working on developing a full-fledged business to molecularly recycle and reuse discarded and collected acrylic resins, in addition to manufacturing acrylic resin. TMNF is collecting a number of end-of-life vehicles with the payment of insurance claims due to automobile accidents and other events in the course of operating the car insurance business. ABT has been commissioned by TMNF to work with dismantlers nationwide to properly dispose of end-of-life vehicles, including reuse and recycling.
The MCG Group, TMNF and ABT aim to establish a scheme for the collection of acrylic resins mainly from taillamps by making use of TMNF's and ABT's end-of-life vehicle processing network. As the first step, we will start verification testing to collect acrylic resins from about 1,000 end-of-life vehicles in the Kanto region in March 2023. Based on the verification testing, we will verify operation, material quality, costs and other items, and then expand the initiative nationwide in FY2024. This is the first attempt in Japan to recover acrylic resin from end-of-life vehicles using the automobile insurance network.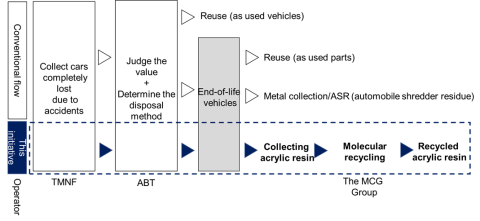 The MCG Group has been conducting verification testing on the recycling of acrylic resin using microwaves. With an eye on operation of the recycling plant starting from FY2024, the MCG Group is aiming to commercialize molecular recycling operations for acrylic resin. While making efforts to establish the recycling technology, the MCG Group is also preparing for social implementation of the acrylic resin recycling system by considering a scheme to collect acrylic resin from various markets.
*1: ABT Corporation is a wholly owned subsidiary of Central Automotive Products Ltd. (Head office: Kita-ku, Osaka; President: Shinichiro Sakata).
Reference
-Press release dated May 24, 2021, entitled "Construction of Verification Facilities and Implementation of Verification Testing to Commercialize Acrylic Resin Molecular Recycling Operations"
https://www.m-chemical.co.jp/en/news/2021/__icsFiles/afieldfile/2021/05/24/AcrylicResinMolecularRecyclingOperations.pdf