Mitsubishi Chemical Corporation
Mitsubishi Chemical Methacrylates
– Plant Signifies Major Progress Toward Full-Scale Development of "Sustainable MMA" –
Mitsubishi Chemical Corporation (MCC; Head office: Chiyoda-ku, Tokyo; President: Masayuki Waga) and its subsidiary Mitsubishi Chemical Methacrylates (MCM; Representative: Hitoshi Sasaki) have developed a manufacturing technology for MMA (methyl methacrylate) monomers that uses plant-derived materials and have begun designing a pilot plant.
The two companies (Group) define MMA monomers manufactured by the following three methods as "Sustainable MMA" and are working on the development of its manufacturing technology.
1.Molecular recycling that collects, decomposes and reuses used acrylic resin *
2.New manufacturing technology that applies plant-derived raw materials to the existing MMA monomer manufacturing process
3.New manufacturing technology to directly manufacture MMA monomers from plant-derived raw materials by fermentation
Promising results using method No. 2 have prompted the Group to begin the design process for a new pilot plant. Applying plant-derived raw materials to the existing process will enable the production of MMA using 100% bio-derived carbon. The pilot plant will be put into operation in fiscal year 2023 and, after demonstrating the technology's viability, the goal is to apply it to existing commercial-scale plants in 2026.
The Group is also developing innovative catalysts and processes to improve productivity in its existing MMA monomer manufacturing technologies, striving to reduce environmental impact by reducing energy consumption and emissions during manufacturing.
MMA is a raw material for acrylic resin used in automobile lamp covers, signboards, aquarium tanks, paints, building materials and many other items. Global demand for MMA has exceeded 3.6 million tons and is expected to continue to grow at the same level as GDP in every country.
As the world's No.1 manufacturer with the top share in the MMA and acrylic resin industry, the Group will pursue the potential of this business, work with stakeholders around the world to reduce the environmental burden of the entire supply chain and seek to actively lead the efforts to realize a circular economy.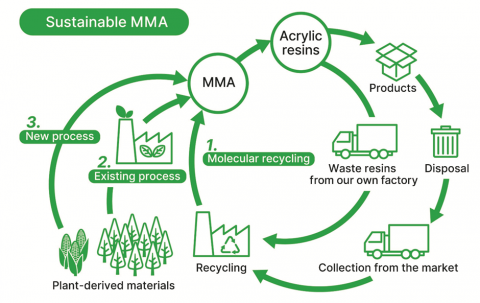 About Mitsubishi Chemical Corporation
Mitsubishi Chemical Corporation creates innovative solutions globally based on our core values of sustainability, health and comfort, striving for the well-being of people, society and our planet Earth. We call this KAITEKI. Learn more at www.m-chemical.co.jp/en.
About Mitsubishi Chemical Methacrylates
Mitsubishi Chemical Methacrylates (MCM) is the global Methacrylates Division of Mitsubishi Chemical. With manufacturing sites, sales offices and distribution networks stretching across Asia, the Americas and Europe, MCM creates products that improve quality of life around the world, every single day. Learn more at www.mcc-methacrylates.com.
For further information, contact:
Communication Division
Mitsubishi Chemical Corporation
Tel: +81-3-6748-7161